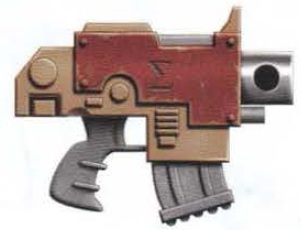 No Image right now, but here's a Magnus Pistol from Wahammer 40k
Found this on Amazon.com, the NEW Nerf Megnus pistol blaster. It sounds every bit Mega.
A reader called Kyu Chen mentioned that we would be seeing something new under the name of
Nerf Magnus
. Aaaand here it is. It is apparently top loading clip based, 3 rounds Mega Whistler blaster. Range is up to 85 feet. Sounds like a Speed Load 6, with Mega darts? I'm down with it, as long as it doesn't chew up the darts....!
Product Description:
"From the Manufacturer Your battles are about to get a whole lot bigger - Mega bigger. The Magnus blaster has the same high performance as other N-Strike Elite blasters, but it features bigger darts engineered to fire farther than ever. Launch Mega Darts at targets up to 85 feet away and dominate the biggest Nerf battle yet with the Magnus blaster. Its built-in, one-handed clip lets you reload fast to get back in the game and it comes with 3 Mega Whistler Darts that scream as they fly. Hit the battlefield with Mega power with the Magnus blaster. Nerf and all related characters are trademarks of Hasbro. "
Got to tell you, I'm intrigued about seeing this now, it sounds very much like what
SBNC predicted
. Kyu Chen has promised to fire over images and internals shortly, so will update as I get the images. I am bit of a loss when it comes to the capacity. Is the whole idea of Mega range to be "high Stock range" with limited capacity? Someone somewhere has got the wrong idea on what fans wanted from this range.
How about you folks, you wondering what it is, or couldn't care less after the Centurion?