*scream* REVERSE-PLUNGER *scream*
First - mucho gracias and props to
Mr Langley over at NerfHaven
for stepping up and giving the NIC a first look at the internals of the new Mega Centurion. You can check the whole album below:
*Scream*
Okokok, enough with the screams, but cmon, HOW have we gone backwards in blaster tech? On a new line of all things? Speaking to a number of fans, I found they felt upset and cheated. With all the feedback given to Hasbro to avoid mistakes of older failed sniper models - is it so simple to say "it's all been blatantly ignored."
We've had similar reverse-plunger blasters that have had abysmal ranges and needed a degree of mod love to put it "right."
Hasbro seem to have even gone as far as put measures in place to restrict even the most determined of mod fans, by adding deep slits in the draw of the plunger tube. These are difficult to reach, even more harder to put "right".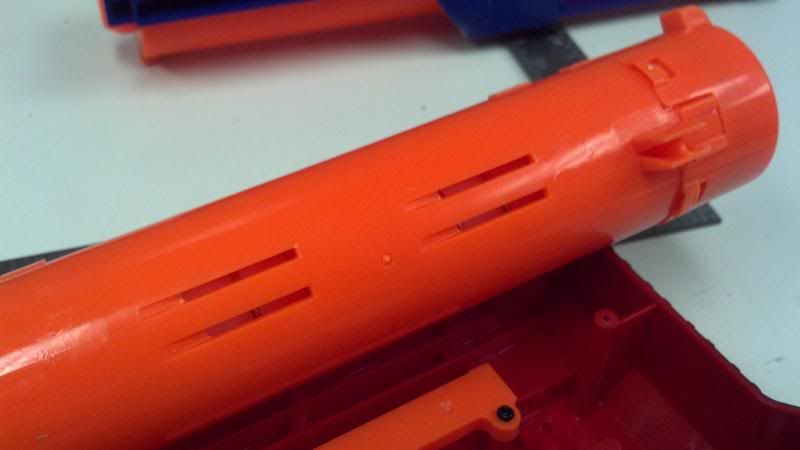 Modders such as
Bobololo
was found to be shouting:
"GOD DAMMIT! IT'S REVERSED PLUNGERED!!!!!!!!!!!! And those slits in the PT?!?!?! FUCK!"
When asked if he would tackle it anyway, his response sounded pretty final:
"Probably not. I'm looking forward to tackling the [censored for NDA], I want to put those RC heli motors in it :P"
I asked
pSyk
what he had to say about it all:
"I HATE IT!! Man i was SO disappointed you have NO idea. But if I get my hands on one.... I'll prolly devise some homemade direct plunger system."
Heng, head of Xplorer
had this:
"We won't make any promises as yet because we need to physically see the blaster and it's internals to decide what we can do with it. However, being a reverse plunger is actually good news for us because there will certainly room for improvement. At Xplorer, when we say improvement, we mean a range of between 75 feet to 150 feet range fired PTG. Like all Xplorer products, we work with stefans exclusively. But with the Centurion, we might think "out of the box" for this one and come up with something new and exciting. The prime concerns for us is to make a kit that is easy to install, affordable, reliable and most of all safe to use."
In what is probably one of the first in game battle plays, Basic Nerf briefly had this to say:

"in game experience with it left me a bit sour" [Basic Nerf]
Adherence to the K.E.D safety standards has put a massive damper for different territories, with the US boasting up to 100ft (range tests achieving around average of 40-70ft). The UK fans can expect a blaster range of up to 80ft (test firing to be seen, but expected to similar after US tests) - what the Australians get is likely to be worse due to their more extreme safety requirements?
For much of the community, the feeling is that of a mixed one. Some simply feel it's not worth buying at all, when the existing Nerf Elite Stock barely hit their 75ft - why would fans spend double the money for what seems less? What is interesting, is the desire for mod fans to rip out the internals and put in homemade blasters. Not quite what Hasbro were thinking or hoping for from fans.
Fans.
I should say the NIC.
The NIC is somewhat of a special beast. We are pretty hardcore fans when it comes to Nerf. Be you a mod or not. It doesn't matter, Hasbro have captured our need for new information and sightings of unseen blasters like no other brand to date. When the Mega Centurion was announced officially by the Nerf Fb page, there was probably a 1:10 ratio of people who knew about it already, and the rest were blown away by the Centurion news.
I guess it's going to impress parents, and folks that just don't know/care enough about it to pick them up in droves :)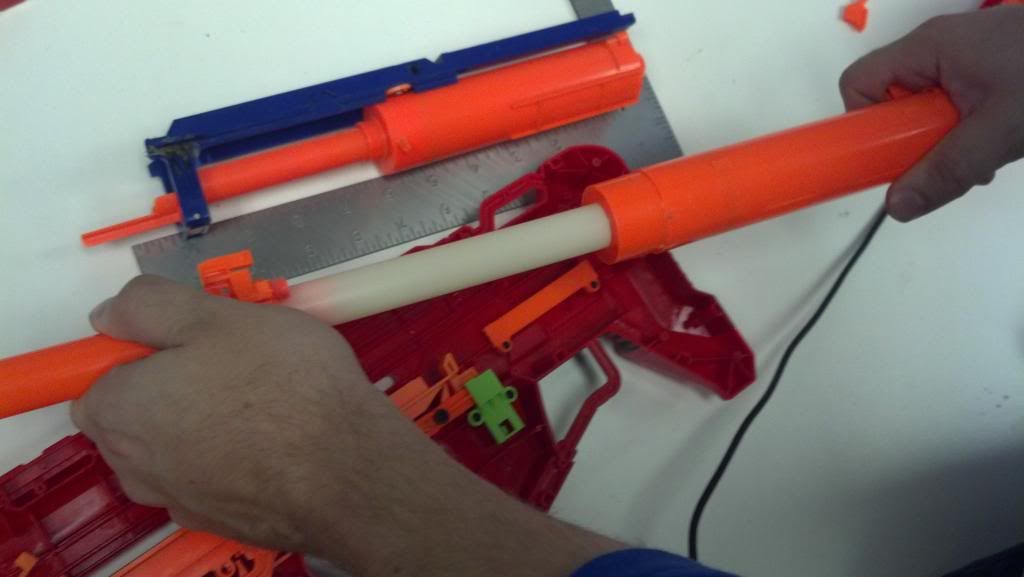 Some have this blaster shelved as better suited to the LARP and Cosplay, than any in game use. I am looking to hold out, possibly even import from the US. My mod skills are limited from basic to none :) So I guess it's down to
Remedy Metal
,
OMW
,
XplorerSG
and
Blasterparts
to put this right!
So
do you folks have any idea what those slits are intended to do? why a reverse plunger? would a direct damage the MegaDarts?
How about you? Are what are your feelings on this?